Giant Marsden SHS prop Xavier Stowers adds to Langer Trophy campaign
Author : Andrew Dawson Quest Newspapers
Subscribe here to watch today's Langer Trophy round 4 games, including today's blockbuster between Marsden SHS and PBC SHS featuring a 196cm giant.
The towering dram of Xavier Stowers alongside his five-eight, Jardyn Stilinovich-Watene(News Corp/Attila Csaszar)
It is just as well the sun would have set by the time Marsden SHS prop Xavier Stowers runs onto the field in today's Langer Trophy livestream blockbuster with Palm Beach Currumbin SHS.
Otherwise the big bloke's imposing frame might have cast a long shadow across the ground.
At 196cm tall and 115kg in weight, Stowers is from the Land of the Giants and one of the competition's big-boppers.
A former Ipswich Grammar School First XV rugby No.8, Stowers is a first season Langer Trophy player having only started in rugby league last season playing for the Ipswich Jets juniors.
He has been a quick learner, having taken to the hurly burly of Langer Trophy front row play like a duck to water. Indeed the Gold Coast Titans have swooped to secure him on potential.
Xavier Stowers, left, with team mate Jardyn Stilinovich-Watene (News Corp/Attila Csaszar)
"League is more physical (than union) and being a front rower, I love the contact which comes with league,'' Stowers said.
Stowers' five-eight in the Marsden SHS team, the slightly built Jardyn Stilinovich-Watene, said having a big, mobile front rower like Stowers helped enormously.
"Having players like him to get us on the front foot, it makes it so much easier to play off the front foot rather than off the back foot,'' Stilinovich-Watene said. "It does so much for us.''
Stowers said he was glad to have switched to Marsden SHS because "the culture is great here''.
"The boys made it easy for me. Coming from Ipswich I thought it would take time for me to settle in but the boys were great, they took me in straight away. That is why I found the transition so easy.''
Meanwhile, the Marsden SHS community was celebrating the recent selection of four players in the Queensland under 12 team.
X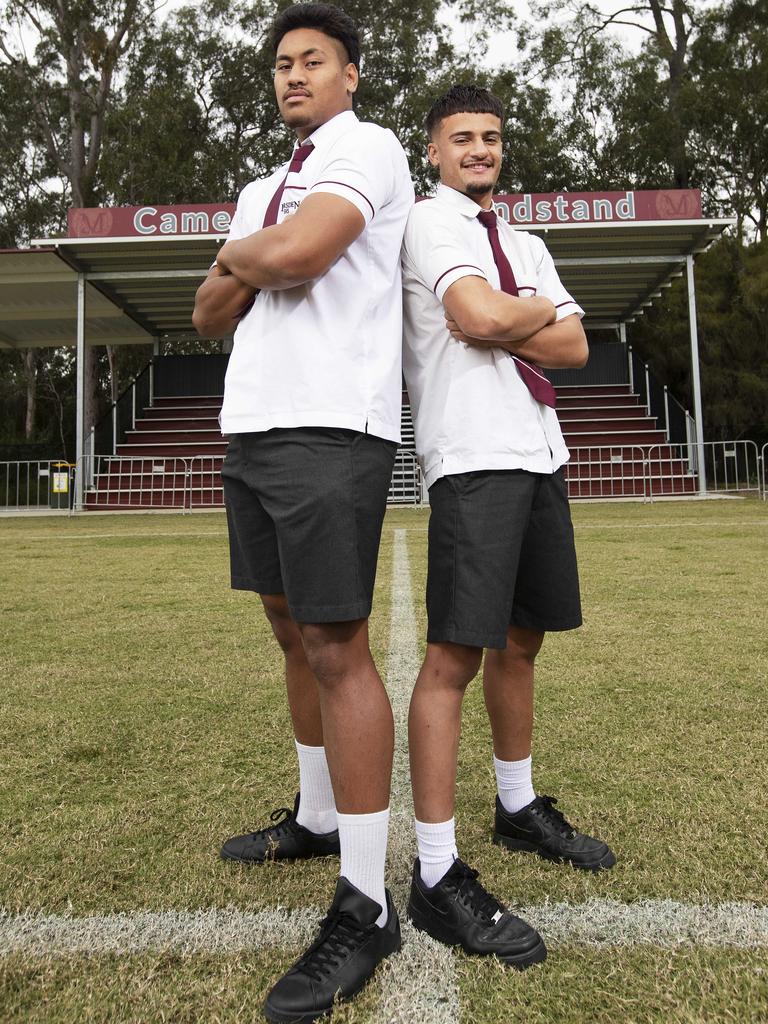 avier Stowers, left, and Jardyn Stilinovich-Watene (News Corp/Attila Csaszar)
They are Jeremiah Toko, Marlee Smith, Chris Vaimili-Toalepai and Marquis Sando.
They joined Mako teammates Kyedon Ashley, Ezra Button and Kingzen Lefono in the Met East team which won the under 12 state title, beating Sunshine Coast.
The Courier-Mail, Gold Coast Bulletin and News Corp Australia affiliates are live-streaming the Langer Trophy, Walters Cup and Langer Reserves games.
That is at least 10-12 games each round – plus access to the Payne Cup while unlocking access to the best News' sites across Australia.
LIVESTREAM SCHEDULE
Venue: Southport Tigers
Walters Cup
2.30pm: (Southport Tigers)
Keebra SHS v Forest Lake
Langer Trophy
3.30: Keebra SHS v St Mary's College
Venue: Slacks Creek RLC
Langer reserves
3pm: Mabel Park SHS v Wavell SHS
Walters Cup
4pm: Mabel Park SHS v Wavell SHS
Langer Trophy
5pm: Mabel Park SHS v Wavell SHS
Venue: North Ipswich Reserve
Walters Cup
3.30pm: Ipswich SHS v Coombabah SHS
Langer Trophy:
4.30pm: Ipswich SHS v Coombabah SHS
Venue:Marsden SHS
Langer reserves
3.30pm: Marsden SHS v PBC SHS
Walters Cup
4.30pm: Marsden SHS v PBC SHS
Langer Trophy
5.30pm: Marsden SHS v PBC SHS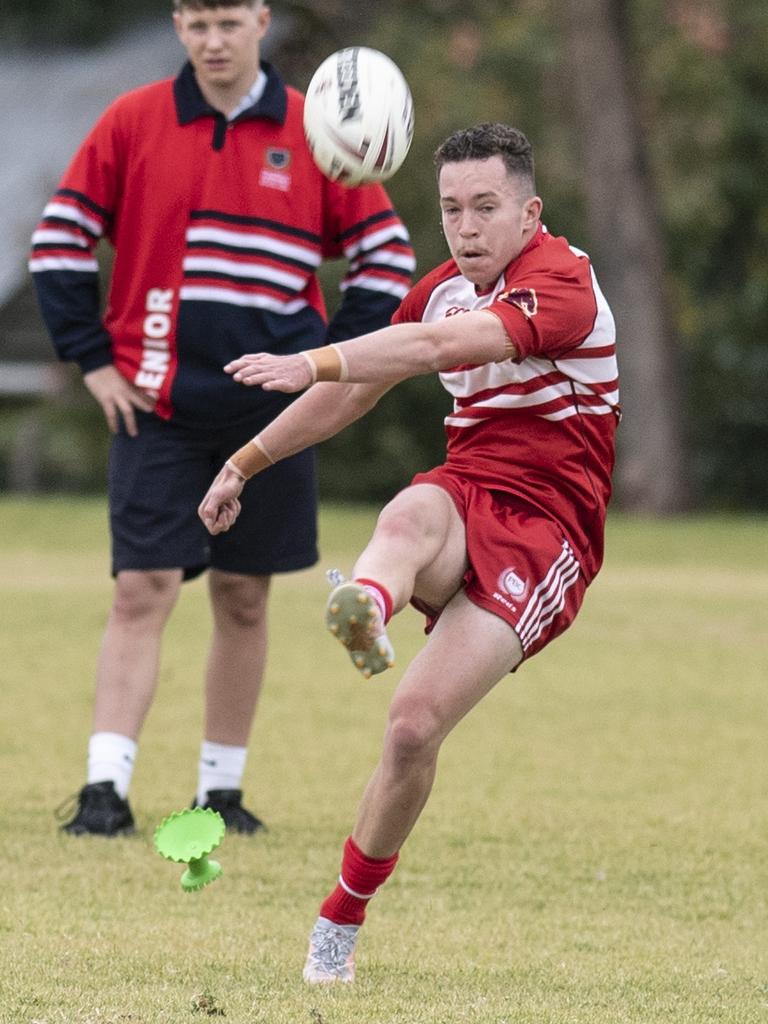 Tom Weaver, kicking for PBC against St Mary's College Picture: Nev Madsen.
The Teams
Marsden SHS v Palm Beach Currumbin SHS
Marsden SHS:
1. Teapo Stoltman, 2. Tea Rani Woodman, 3. Will Semu, 4. Kienan Tempest, 5. Luke Bossons, 6. Jardyn Stilinovich-Watene, 7. Cassius Cowley, 8. Lance Fualema, 9. Tyree Bowman, 10. Xavier Stowers, 11. Nathaniel Tangimataiti, 12. Jieye Mauai, 13. Chris Faagutu (c): Interchange from: 14. Hamuera Kingi, 15. Taelon Te-Whiu Hopa, 16. Tyson Stanley, 17. Sione Fotuaika, 18. Braden Teuila
PBC SHS:
1. Keano Kini, 2. Hunter Ploegsma, 3. Reef Sommerville, 4. Deine Mariner, 5. Michael Roberts, 6. Travis May, 7. Tom Weaver (c), 8. Jack Cullen, 9. Tanu Nona, 10. Kade Somerville, 11. Brock Priestley, 12. Ryan Foran, 13. Bailey Martin. Interchange: 14. Josh Lynn, 15. Jayden Wright, 17. Isaiah Scanlan, 18. Reico Ratana
Keebra Park SHS v St Mary's (Southport)
Keebra Park SHS:
1. Tawera Toia, 2. Levi Jones, 3. Elijah Hola, 4. Nella Lotaki, 5. Elijah Lui, 6. Cooper Maytom, 7. Connor Te Kani, 8. Immanuel Kalekale, 9. Blake Mozer, 10. Herman Tofaeono, 11. Seth Nikotemo, 12. Del Wigmore, 13. Arama Hau, 14. Deontae Perese, 15. Louruce Brown, 16. PJ Poutasi. 17. Haze Tai-Rakena, 18. Jeremiah Tamepo, 19. Zane Lothian, 20. Wailer Whaiapu
St Mary's College: TBA
Mabel Park SHS v Wavell SHS
Mabel Park SHS:
1. Hikoirangi Paki, 2. Lennox Pafalani, 3. Kena Finau, 4. Atunaisa Pahulu, 5. Glen Fisher, 6. Kaiwhiri Reuben, 7. Lexii Tau, 8. AJ Taylor, 9. Ranil Shankar, 10. Peni Auvaa, 11. Jamie Zaghini, 12. Melchizadek Laumatia, 13. Levi Kereopa. Interchange: 14. Fiva Taumaletila-Maulolo, 15. Alex Leapai, 16. Mustafa Kaya, 17. Shilo Asafo
Wavell SHS:
1. Po Hotere-Papalii, 2. Jayden Ambichi, 3. Tre Fotu, 4. Prinston Esera, 5. Jordan Tut-Chapman, 6. Karl Oloapu, 7. Jalen Afamasaga, 8. Damascus Neemia, 9. Tyrell Waaka-Rhind, 10. Tahrell Feaveai, 11. Will Curran, 12. Ben Te Kura, 13. Drew Timms. Interchange: 14. Bristowe Murray, 15. Norman Rua, 16. D'metrius Iose, 17. Naytan Iselin, 18. Sese Nati, 19. Arthur Fitness
Coombabah SHS v Ipswich SHS (North Ipswich)
Coombabah SHS:
1. Shannon Donaldson, 2. Filisi Frost, 3. Dre Goldsmith, 4. Kyen Murphy, 5. Te Hata Reid, 6. Ethan Leypoldt, 7. Caleb Gould-Waiariki, 8. K-ci Whare, 9. Sean Howlett, 10. Joseph Shannon, 11. Beau Liddle, 12. Jared Johnson, 13. Jay Blazek, 14. Casey Harding, 15. Tana Clark, 16. Dwayne Ckwan-Fuimaono, 17. Jack McKenzie-Morri, 18. Quezon Eteru
19. Matthew Logopati, 20. Jaxon Denny.
Ipswich SHS:
1. Caleb Jackson, 2. Kulu Baruani, 3. Shannon Stewart, 4. Damien Burrows, 5. Vincent Pereira, 6. Mason Pintegne, 7. Jake Self, 8. Josiah Pahulu, 9. Tommy Luhrman, 21. Rene Bagon, 11, Josiah Patea, 12. Kulikefu Finefeuiaki, 13. Jarvis Yeatman.
Interchange: 14 Tyrese Weatherby, 10, Samson Sauaso, 16. Richard Mala, 17. Tupou Fe'ao