Hunter Sports hold out Bass in thriller
Author : William Tyson News Corp Australia Sports Newsroom
Hunter Sports High get 1st win in Schoolboy Cup
Hunter Sports turned on a powerhouse defensive display to grab a nervy win over Bass High and record their first win of this year's NRL Schoolboy Cup. RELIVE ALL THE ACTION.
Highlights: Bass Sports High School scored their first try of the tournament and took it right up to Hunter Sports High.
Hunter Sports High survived a scare from Bass High to record their first win of the NRL Schoolboy Cup with a 24-20 victory at Terry Lamb Complex.
In the end, the clock was Bass's biggest enemy and, while both sides fought hard, it was Hunter's defence that sealed the deal for the visitors.
"It's really good, this is the most injuries we've had going into a game, most of our boys are still 15, 16 years old and to finally get a win it means a lot," said Hunter fullback Jack Dodd.
Second-rower Jarred Williams started things off for Hunter when he crashed through the Bass defensive line in the third minute.
Minutes later, the hosts hit back when Louai Mohammed scored in the corner.
In a error-ridden first half, Hunter Sports class prevailed as Bass struggled to capitalise on early opportunities.
Mitchell Taotua beat two defenders and crashed over the tryline to give Bass the lead, but on the cusp of halftime Hunter responded through a Mason Forbes try to put them two points in front going into the break.
The locals needed to score the first try of the second half and came agonisingly close off the back of strong from Charles Afeki.
Bass's early errors came back to bite them when Broden Konz scooped the ball out of dummy-half and scored for the visitors.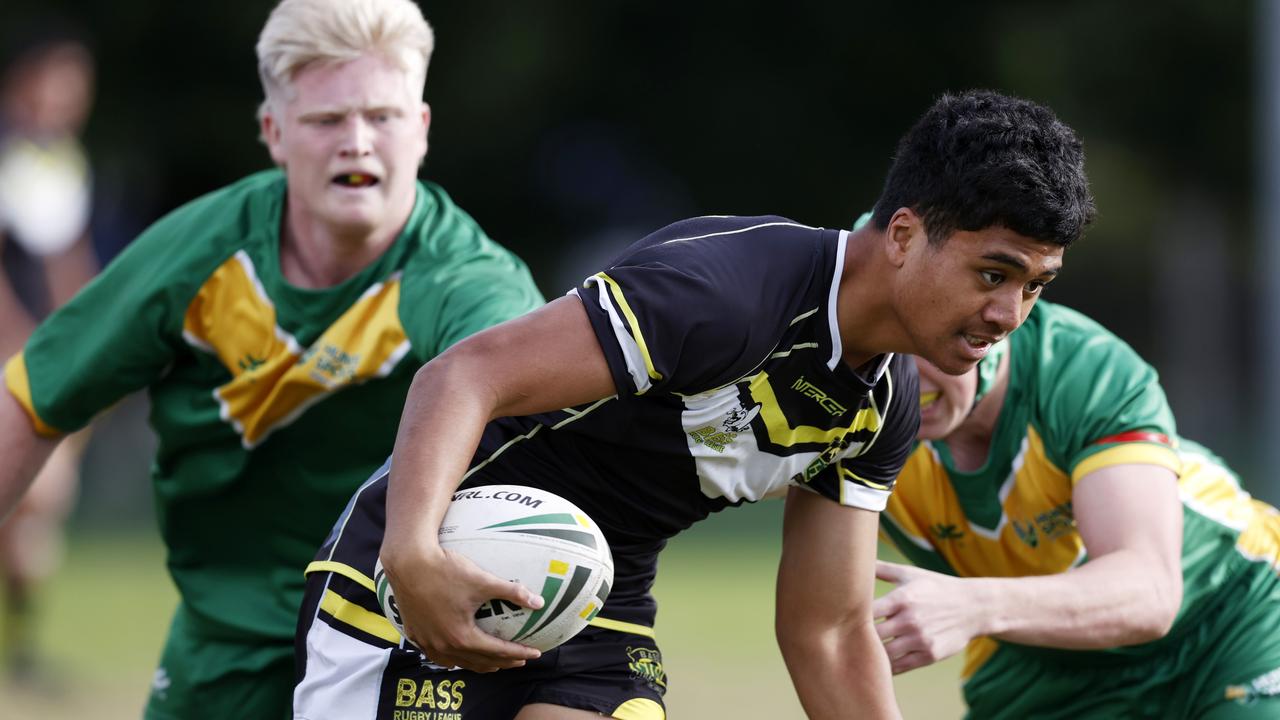 Maxwell Taotua couldn't get Bass over the line.
Hunter's five-eighth Lauchlyn Spicer was threatening the Bass line all day and was rewarded for his work after he kicked to a charging Kai Spruce-Conn, who dotted down.
Trailing 18-10, the locals needed an answer and found one through Fanafou Seve, who beat three defenders to the line.
But Hunter's pressure was relentless, and it looked like they put the nail in the coffin when Spruce-Conn threw a cut-out pass to Harrison Sams, who scored in the corner.
When it all seemed over, Max Taotua kept his team in the contest scoring a crucial try to cut the lead down to four points.
Bass HS 20 – 24 Hunter SHS
Bass HS 20
TRIES : Louai Mohammed, Mitchell Taotua, Fanafou Seve, Maxwell Taota
GOALS : Jonathan Sa'u
Hunter SHS 24
TRIES : Harrison Sams 2, Jarred Williams, Broden Konz, Kai Spruce Cohn
GOALS : Lauchlyn Spicer 2